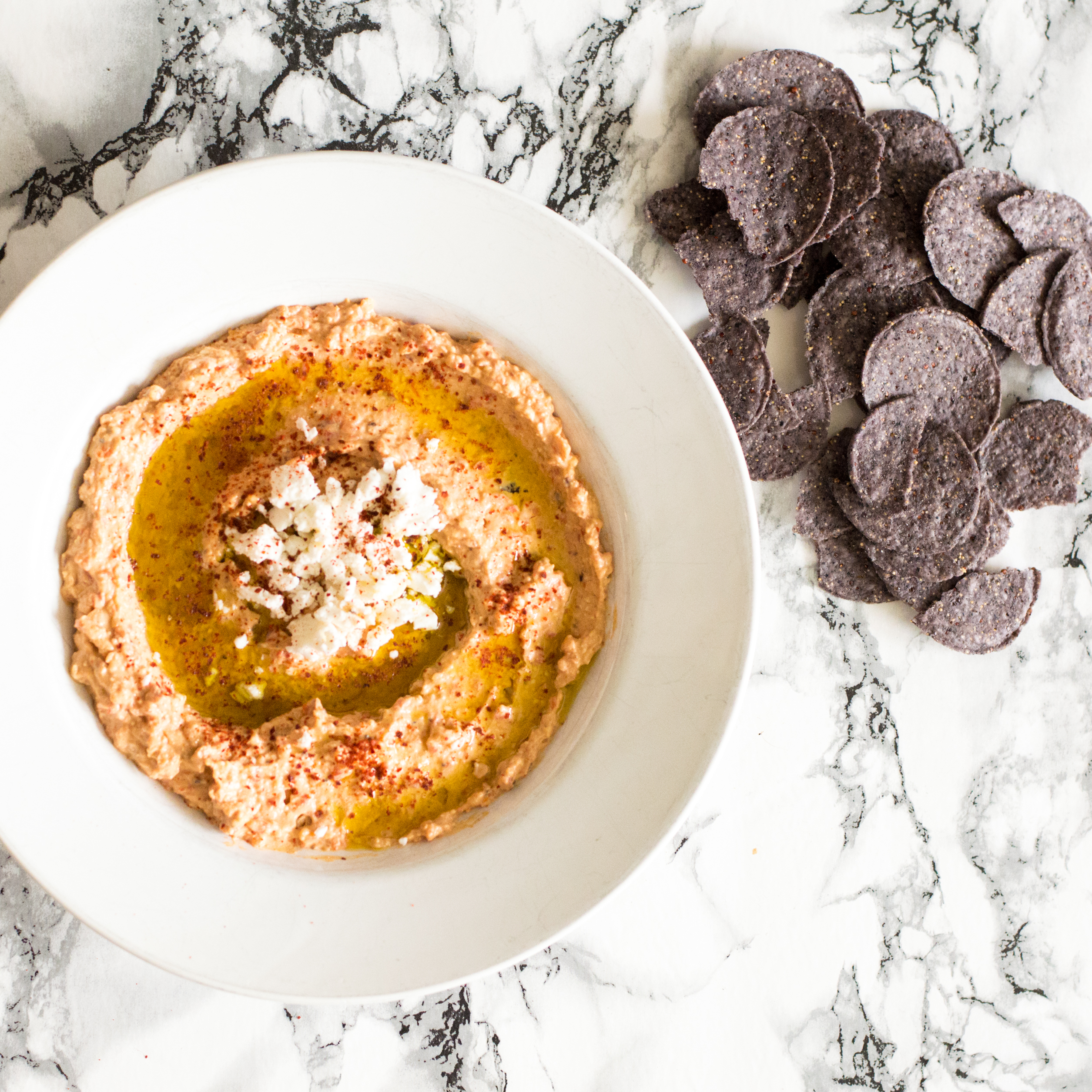 Looking for something different than regular hummus to snack on or put out at your next party? This roasted red pepper and feta dip is just the thing! It's creamy, delicious, and super simple to make. I even mixed it with brown rice and chopped spinach for lunch the other day! You could absolutely swap out the color of pepper based on what you like and what color looks most festive, however I opted for the red peppers because I like their taste and it makes the dip festive for Fourth of July.
Roasted Red Pepper and Feta Dip Ingredients:
2 red bell peppers, seeded and cut into slices
3 large cloves of garlic
¼ large red onion cut into large pieces
¼ cup olive oil, plus more for garnish
¼ tsp kosher salt
½ lb good quality feta cheese
½ cup plain nonfat Greek yogurt
Preheat oven to 450 degrees. Start by roasting the peppers. Line your baking sheet with tin foil, then place the sliced peppers, onions, and garlic on top. Next drizzle the veggies with ¼ cup olive oil and ¼ tsp kosher salt. Roast for 15-20 minutes until peppers are soft and everything gets caramelized. It's okay if some of the peppers get a bit charred; it adds flavor!
Once out of the oven, let the veggies cool for a few minutes. Once slightly cool, add the roasted vegetables and feta cheese into the bowl of a food processor, and pulse until everything is combined. Add in the Greek yogurt and continue to pulse until you get the consistency you like. If the roasted red pepper and feta dip is too thick, add some olive oil to thin it out.
Note*** You can absolutely make this ahead of time and keep it in the fridge. While its great while served slightly warm and fresh, this is also a great dip to make a day ahead of time so all of the flavors come together.
Drizzle with olive oil, crumbled feta cheese, and crushed red pepper, and serve this alongside pita chips, or for a festive fourth of July twist, with blue corn or blue potato chips.
Enjoy!