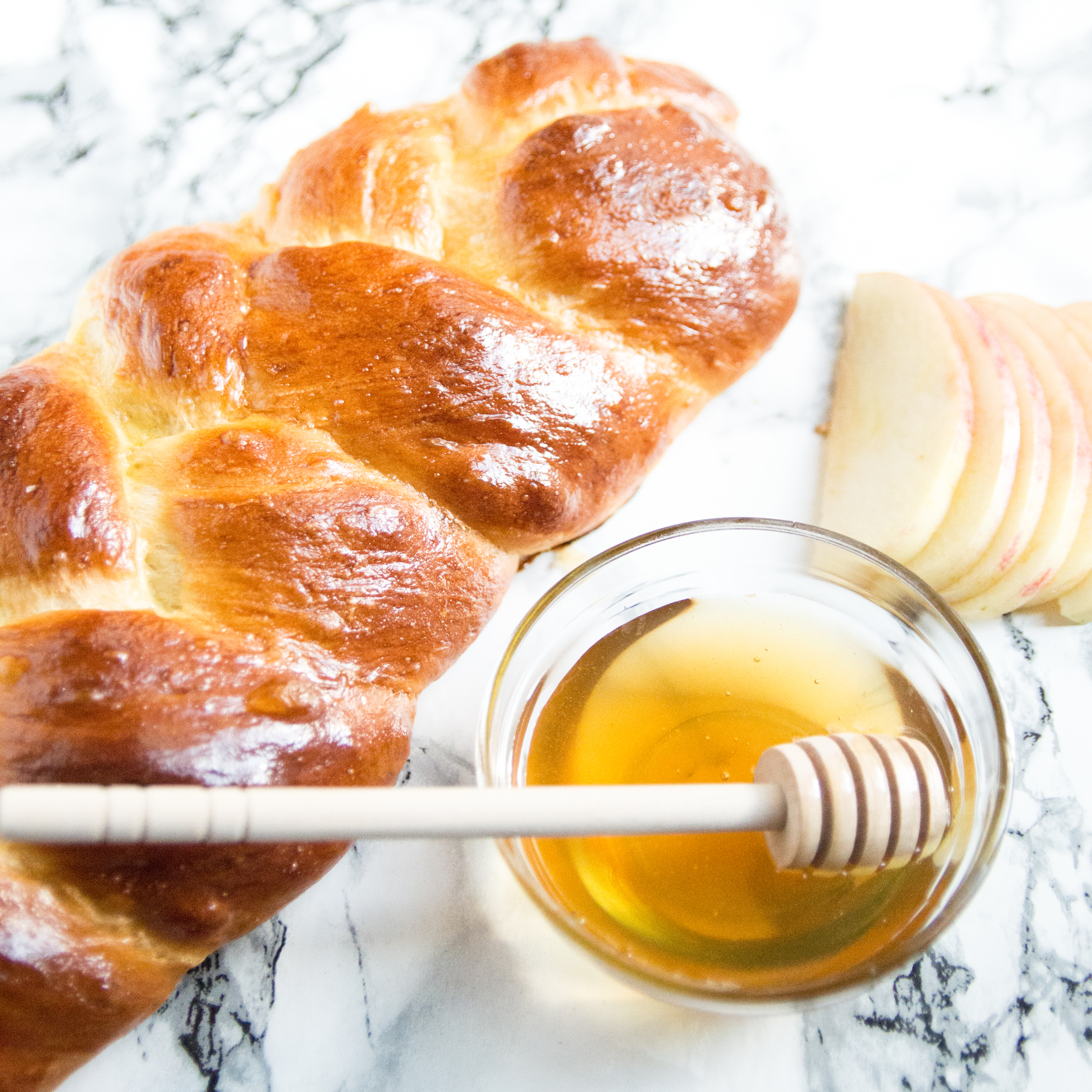 I make challah every year for Rosh Hashanah (and on most Jewish holidays) but this year I thought I screwed up big time. I misread my recipe and accidentally added an extra egg to the dough. The dough was super sticky and I thought it was done for, but after letting it rise for two hours, the dough softened up and was super rich. Turns out that I had accidentally created my favorite challah recipe yet!
Beware, this challah is addicting, and this recipe makes five regular size loaves or four giant loaves of challah. Be ready to share with friends and family. Everyone will love you for it!
***Note: This recipe is for classic challah, but you can add different toppings or fillings if you want. I topped one with Trader Joe's everything bagel seasoning, and added chocolate chips to another challah loaf. Whether you play around with the add-ins or keep it simple and classic, this challah recipe is sure to please***
Challah Ingredients:
2 packets of dry yeast (2 tablespoons)
1 tablespoon + ½ cup honey
1 ¾ cup lukewarm water
½ cup canola or vegetable oil + more for greasing the bowl
5 eggs + 1 egg for the egg wash on top
1 teaspoon kosher salt
8 cups all purpose flour
In the bowl of a standing mixer combine 1 tablespoon of honey, yeast, and warm water and let sit until frothy (about 5-10 minutes). Next, whisk in the honey, oil, and 5 eggs, making sure that the yolks are broken and everything is beaten together.
Switch to a dough hook and add in the flour, one cup at a time. After cup 3, add in the salt. You don't want to add in the salt until you have enough flour added to the yeast mixture because salt kills yeast.
Once you've added all 8 cups of flour, grease a large bowl and transfer the dough from the mixer to the bowl. The dough will be very sticky. Cover the bowl with a towel and let rise for two hours until it is doubled in size. I usually let the dough rise in the oven while it's turned off.
After two hours, turn out the dough onto a well floured surface and divide the dough into 4 or 5 pieces. I divided mine into 5. And from there, divide each piece into 3 long "worms" so you can braid your challah. Transfer the braids to a parchment or silicone baking mat lined baking sheet, and make sure that they are at least two inches apart. Cover each tray with a dry towel and let rise for one more hour.
Preheat the oven to 375 degrees, and while the oven is heating up, beat the final egg and brush it over the challah so that it browns nicely in the oven. I usually do 2 coats of the egg wash, but 1 will suffice. The egg wash will also act as a glue, so if you want to sprinkle anything on top of your challah like sesame seeds, herbs, sugar, or any other seasoning, sprinkle it on now.
Bake challah for 25 minutes until golden brown and cooked through. If you knock on the outside of the challah, it will sound hollow when it's done.
Enjoy!