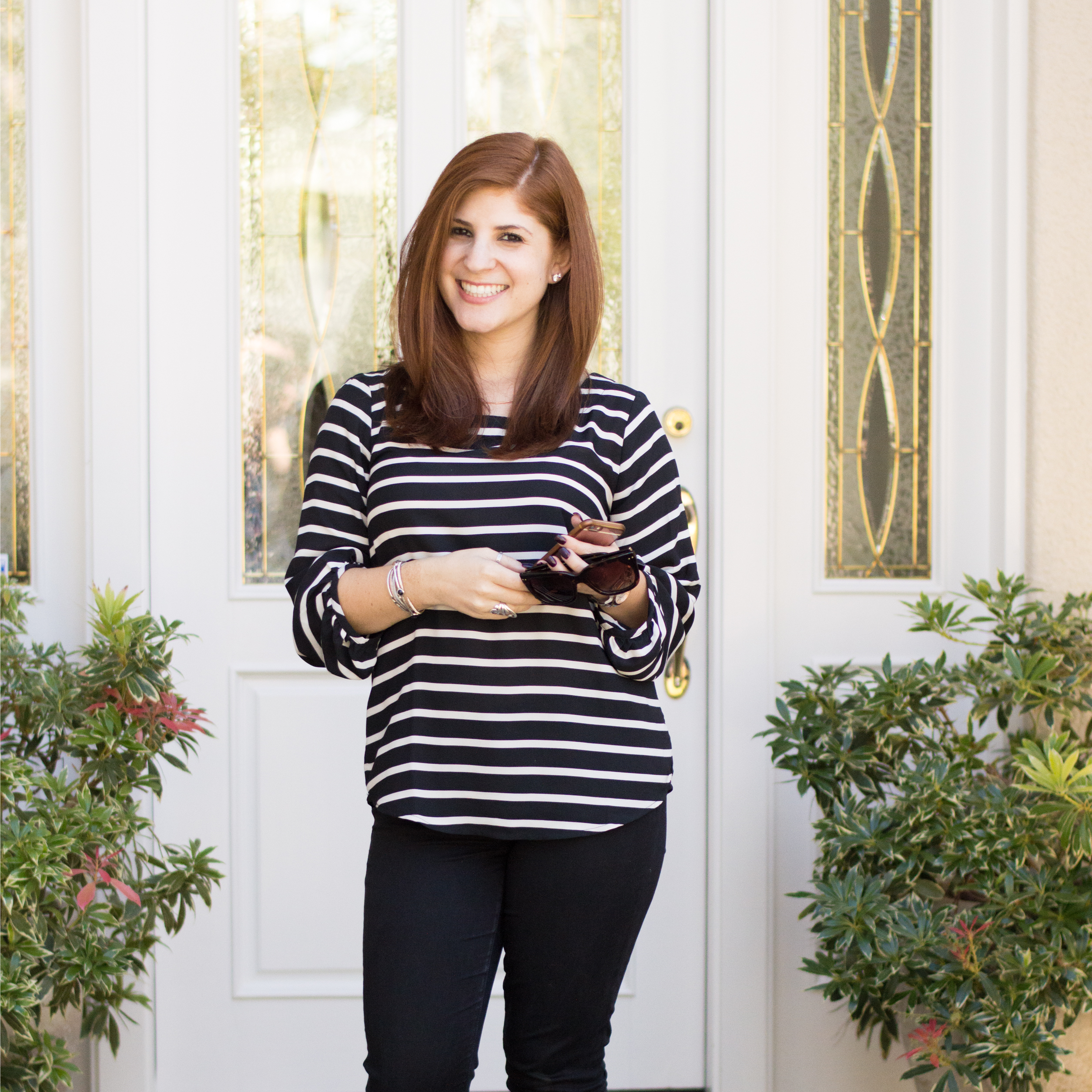 Let's get real for a minute. Does anyone else feel like there aren't enough hours in the day? As a girl on the go, I understand that it can feel like there's not enough time to look put together and professional, but that is simply not the case. I promise that if you put in some prep work, you can absolutely look polished and professional even when you're rushing out of the house in the morning. It doesn't have to take a lot of time, and swapping out a few items in your wardrobe will make a huge difference in how you look and feel. Instantly amp up your style while still getting dressing quickly!
Swap out your cotton shirt for a blouse.
While cotton is comfortable and easy to throw on, it can often appear extremely casual and a bit frumpy. Swapping out your cotton top for something a little more polished but just as comfortable will instantly make you appear more put together while still effortlessly chic.
There are so many blouse options out there that look great and don't break the bank. Opting for a top in a silk or chiffon material will create a more dressed up appearance while still giving you the ease of throwing on a blouse. Fun prints or button detail will amp up your style even more without any extra effort.
Invest in a great pair of flats.
They can come at a bit of a heftier price, but I'm a firm believer that Cole Haan flats are the absolute best. They sell a variety of flats made with nike air technology, and they're all super comfortable. I tend to invest in a good pair of Cole Haan's every few years, and they have become pretty much the only brand of flats I wear. I love how comfortable they are, and they are made really well, which means that they last.
A great pair of flats can become your go-to shoe. You want them to be clean, comfortable, and chic. Preferably have a pair that you run around in all day and a pair that are a bit more refined to dress them up, but having one good pair of flats will serve you just fine as long as you take care of them. I love patent leather flats because I feel like they're easier to keep clean, and add a bit of flare to any outfit.
Swapping out your flip flops or casual sneakers for a comfortable pair of flats will make you appear more polished and less like you're a school kid. Something about sneakers always makes me think of being on the playground as a child, and personally, that's not the impression I want my style to give off.
Swap out your regular denim for a colored option.
While I'm a huge fan of blue jeans, swapping out your basic blue denim for colored denim can make your look a bit more formal and less casual. Dark jeans can definitely be dressed up, however a pair of black skinny jeans appear more chic and professional. I always love black, but if you like color, mix things up! So many brands offer a wide range of color options that instantly bump up the style of your outfit.
Colored denim is a great option for something a little more formal than traditional blue jeans, but still more casual than a pair of slacks. Colored denim is especially great for business casual offices where you want to look a bit more professional, but still want the ease of throwing on your favorite jeans in the morning.
_______
You don't have to do much to instantly create a more polished and professional style for yourself. If you're a girl on the go who thinks that you don't have time to dress well, I'm here to tell you that you're wrong. It's important that you feel good about what you're wearing and that your style is functional for your life. These small changes to your wardrobe will make a huge difference in how you look and feel, and help you make sleek and sophisticated style more accessible.