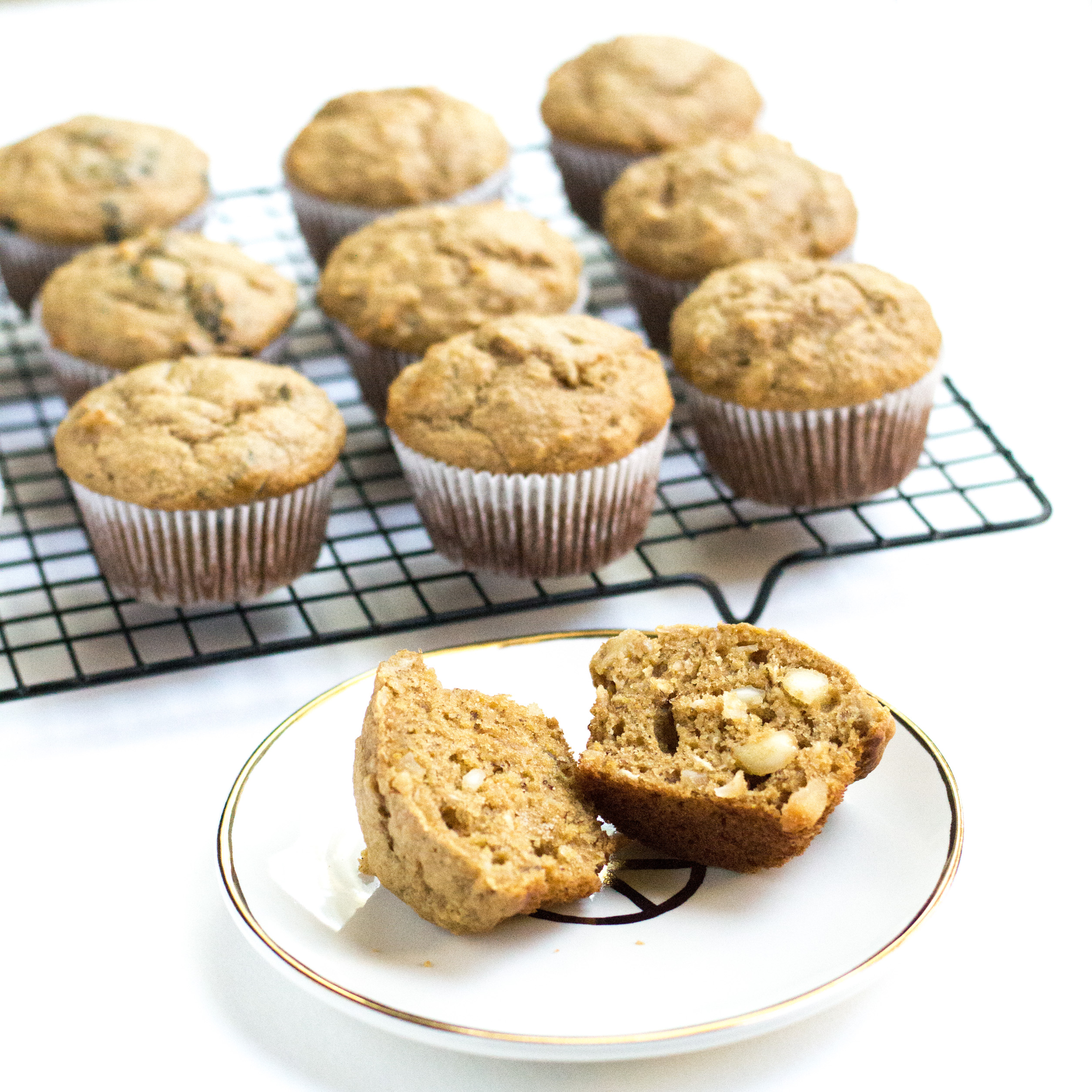 I'm always looking for quick and delicious snacks that I can bring with me to work, and these tropical banana muffins are perfect. Made with oat flour and greek yogurt, these muffins are packed with protein and fiber, aren't too sweet, and can be made and frozen to thaw out for a quick snack.
Best of all, I made these completely by hand with no special tools except for a fork and an ice cream scoop!
Ingredients:
2 ripe bananas (mashed)
½ tsp vanilla bean paste
½ cup coconut sugar
½ cup canola oil
2 eggs
¼ cup plain nonfat Greek yogurt
1 tsp baking soda
¾ tsp baking powder
1 cup al purpose flour
1 cup oat flour (1 cup of rolled oats pulverized to a flour consistency)
2/3 cup toasted unsweetened coconut
2/3 cup toasted unsalted macadamia nuts
Mash bananas with a fork until they make a sort of paste. Next, add in the vanilla, cinnamon, sugar, and oil, and mix until combined. NOTE** Vanilla bean paste isn't necessary, but it is absolutely my new favorite ingredient. You can order it on amazon, or you can find it in a jar at your local grocery store. It has all the vanilla flavor without the alcohol taste of vanilla extract, and is way easier to use than actual vanilla beans. Next, add in the eggs, one at a time and mix until they are fully incorporated, then add in the Greek yogurt.
In a separate bowl, mix both flours, baking powder, and baking soda until well combined. Add the dry ingredients into the wet in 3 batches, mixing the batter until everything is just mixed together. Do not overmix or it will get tough.
Next, chop up your macadamia nuts and place the nuts and the unsweetened shredded coconut in a dry pan (with no oil or fat) over medium heat. Stirring frequently, watch them and toast until everything is golden brown. Dump the freshly toasted coconuts and macadamia nuts into your batter and stir to evenly distribute it.
Line a muffin tin with your favorite liners, and using a standard ice cream scoop, scoop out muffins so they are all equal size. I got 14 muffins out of this.
Bake at 350 degrees for 15-17 minutes until muffins are baked through and a toothpick inserted in the center comes out clean.
These tropical banana muffins probably won't last long, but if you do need to store them, store them in a ziplock bag in the fridge, or in the freezer in a ziplock freezer bag. Tropical banana muffins are an ode to the flavors of summer and the perfect way to kick off your weekend!