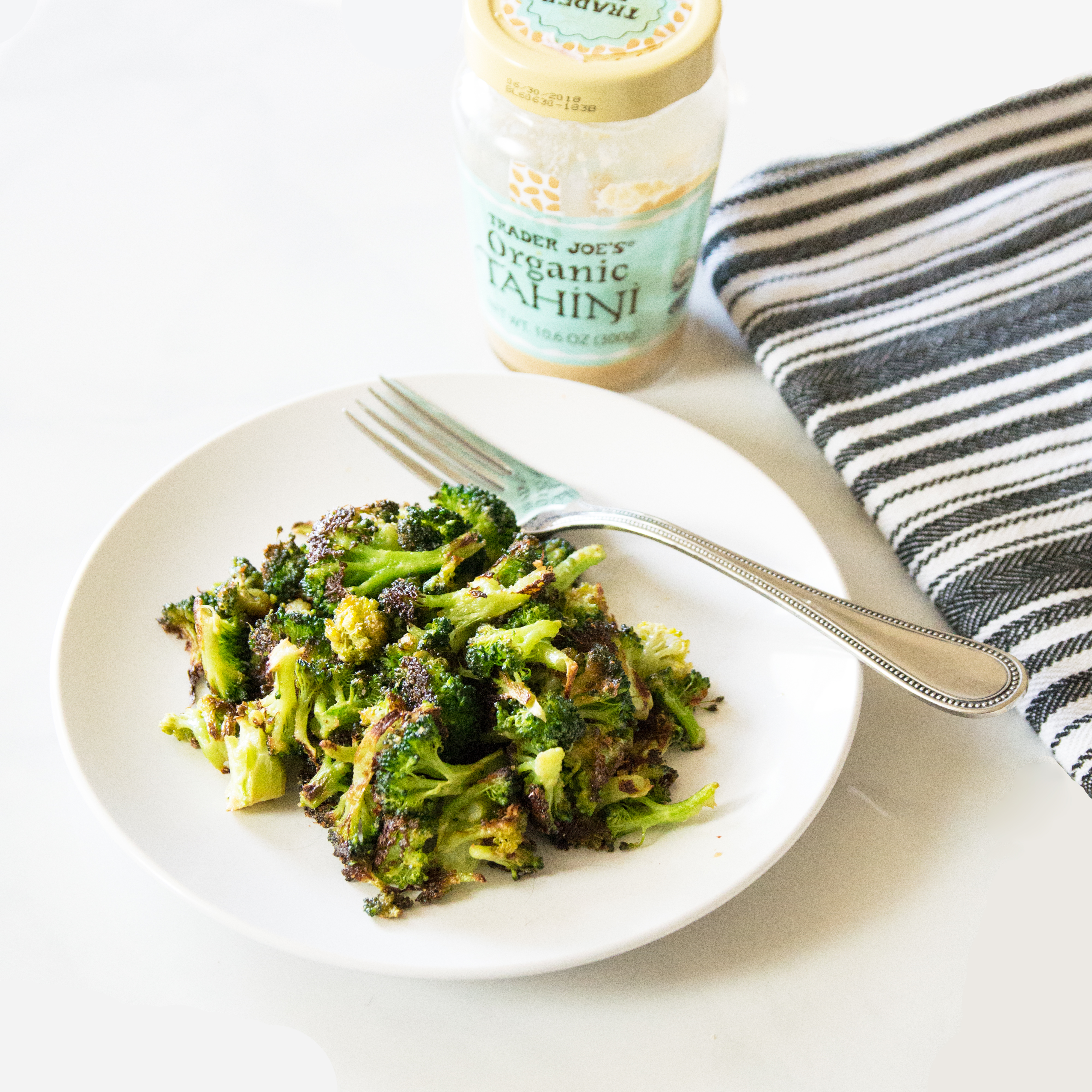 While tahini seems to be the newest trendy ingredient to be used in everything from sweet to savory treats, I only recently discovered how delicious it really is. I've always known that tahini is an integral part of hummus, but never used it for anything else. I recently saw an article about adding tahini to salad dressings which opened me up to a world of new tahini infused opportunities, and drove me to come up with this tahini roasted broccoli recipe. The result is an uber healthy but addictingly delicious sweet, salty and nutty flavor, with added crunch from the high heat roasted broccoli.
This is the perfect side dish, but truth be told I've been eating a big pile of this for lunch almost daily! Bonus tip: Make more than you think you'll need, because I promise you'll eat more than you expect!
Tahini Roasted Broccoli Ingredients:
1 ¼ tsp tahini
2 tsp olive oil
½ tsp soy sauce
½ tsp maple syrup
2 cups of broccoli florets
Nonstick cooking spray or olive oil spray
Preheat the oven to 450 degrees.
Start by whisking all of the ingredients except for the broccoli together in a bowl. They will come together and become the consistency of a vinaigrette. (Honestly, you could totally add in a squeeze of lemon juice and use it as a salad dressing too!)
Once you have your sauce, break the broccoli florets up into small pieces. This isn't totally necessary, but I like to break the broccoli up so that it gets well coated in the sauce, and it gives it more surface area to roast.
Add the broccoli florets into the sauce and toss to coat everything evenly. Line a baking sheet with tin foil and spray with nonstick or olive oil spray. Transfer broccoli onto the baking sheet and spread it out into one even layer.
Roast at 450 degrees for 12 minutes. The tahini roasted broccoli will come out slightly crispy, sweet, salty, nutty, and absolutely delicious! You can serve right away or store for meal prep.
Enjoy!