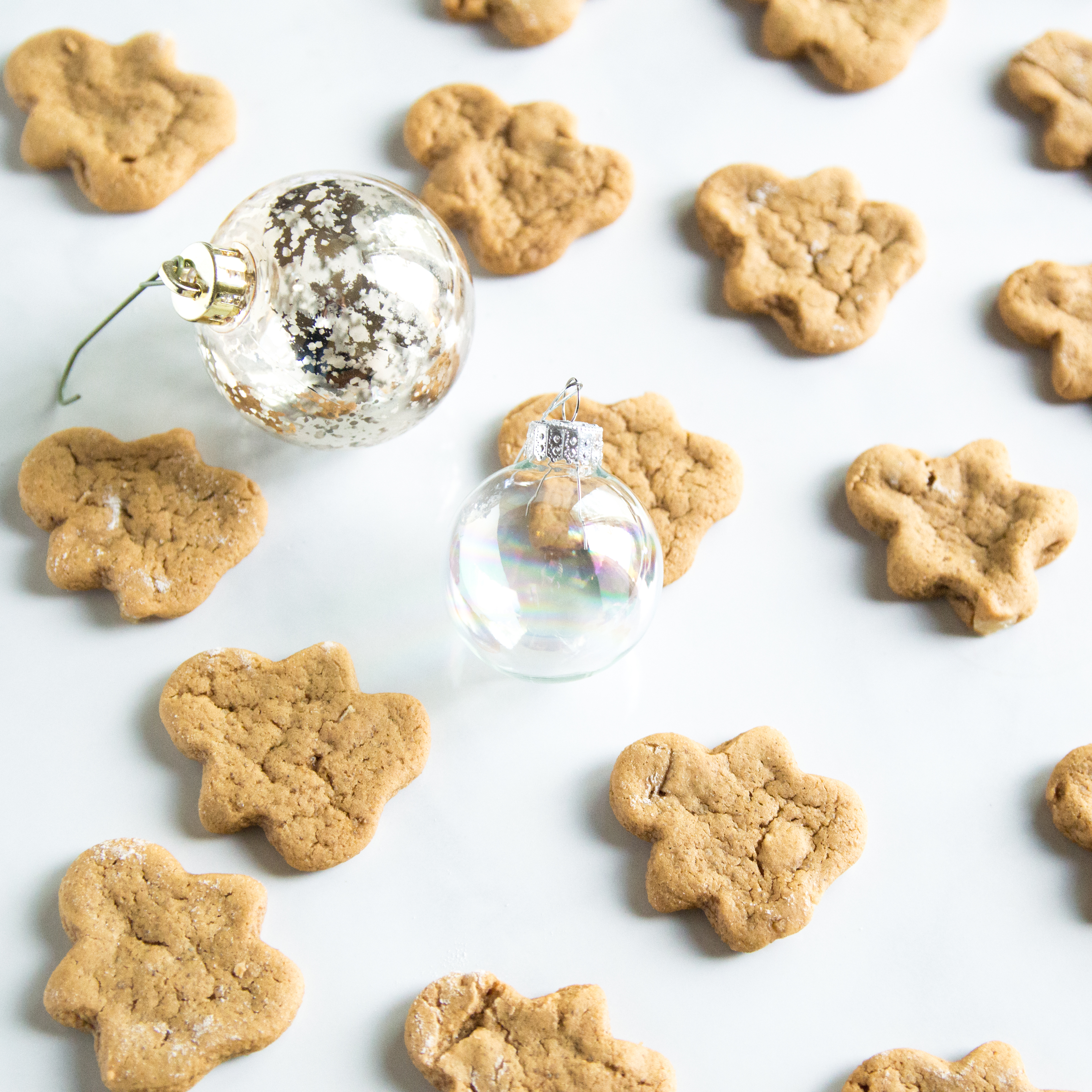 These spicy gingerbread cookies are sweet, spicy, and the epitome of the holiday season. I never knew how many people loved ginger cookies until I made and passed these out, only to hear each and every person exclaim, "Oh, I love ginger!"
This recipe comes out perfectly chewy and flavorful every time, and can be made relatively quickly. I actually went to make full sized gingerbread men, but discovered that I only own a mini gingerbread man cookie cutter, so I made mini cookies instead. Because I made the cookies tiny, the recipe actually made about 9 dozen cookies! Perfect for a cookie swap or to pass out to friends and family.
Spice Gingerbread Cookies:
2 ½ cups all purpose flour
1 ½ tsp baking soda
¾ tsp cinnamon
1 tsp ground dried ginger
½ cup crystalized ginger
½ tsp ground cloves
1/8 tsp cayenne pepper
1 stick (8 tbs) salted butter at room temp
½ cup granulated sugar
1 cup brown sugar
1 ½ tsp vanilla extract
1/3 cup molasses
2 egg whites
Start by creaming the butter, sugar, and vanilla until light and fluffy. Next add in the egg whites and beat until well combined. Next add in the molasses and make sure everything is well incorporated.
In a separate bowl, mix all of the dry ingredients, (including the crystalized ginger) and add them into the wet ingredients in 3 batches.
NOTE** the crystalized ginger I used came in tiny pieces, but if your crystalized ginger comes in bigger chunks, dice it into small pieces so it combines well and evenly throughout the cookie dough. These aren't big cookies, so big pieces of crystalized ginger would be too overpowering and disproportionate.
Preheat the oven to 350 degrees F.
Line a large baking sheet with parchment paper or a silicone baking mat. Split the dough in thirds and place about a quarter of the dough on a liberally floured surface. I usually put a large piece of parchment paper or cutting board down and put flour on top of that for easy clean up.
Make sure you use enough flour on your work surface and rolling pin to ensure that the dough doesn't stick to anything. If you don't use enough flour, your dough will become a sticky mess.
Working with one disk at a time, roll out the dough to about ¼ inch thick and cut out with your favorite cookie cutters. As I mentioned, I ended up using mini gingerbread men, but you could use any cookie cutter of any size that you like! Place the unbaked spicy gingerbread cookies on your lined baking sheet with an inch in between each cookie.
Bake at 350 degrees for 6 minutes. Let cool on pan for an additional 4-6 minutes, then transfer to wire rack. This recipe makes about 9 dozen mini cookies depending on how big your cookie cutters are, so it's great to serve a crowd!