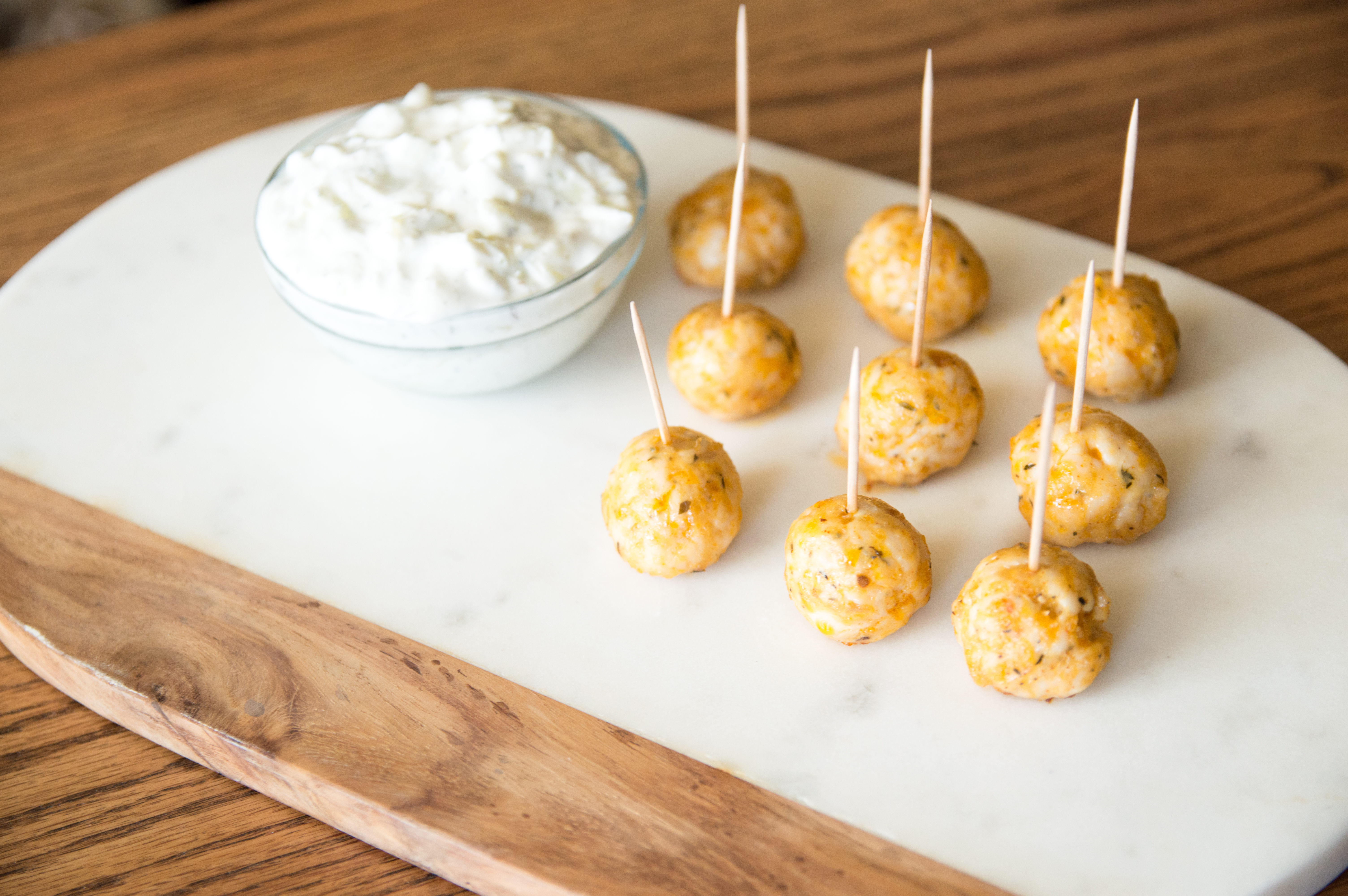 When I think of party food, I think of food that's easy to make, easy to eat, and can be consumed with a drink in hand, and these party size turkey meatballs with tzatziki are the perfect dish! This dish becomes even better when you realize that it's totally healthy and guilt free, which makes it perfect for summer parties and summer bodies!
I love how quickly and easily these party size turkey meatballs with tzatziki come together, and the cool and crisp garlic cucumber dip feels indulgent, even though it's totally healthy and packed with protein. For reference, this recipe makes about 50 party sized meatballs. You can absolutely bake them when you make them, but I often make a batch of these, bake half of them and freeze the other half so that I have them ready in the freezer when I want them. This way I just thaw them out and pop them in the oven for a quick and easy meal or appetizer.
Party Size Turkey Meatballs
2 Shallots
4 cloves of garlic
1 tsp dried thyme
½ tsp smoked paprika
¼ cup olive oil
1/3 cup panko bread crumbs
½ tsp kosher salt
1 ¼ lb lean ground turkey breast
1 egg
Tzatziki Dip
½ cup plain nonfat Greek yogurt
½ cup fresh grated cucumber
2 tbs Trader Joe's garlic Dip (just use 1-2 cloves of finely chopped garlic if you can't find this dip)
¼ tsp dried dill
¼ tsp dried oregano
1/8 tsp kosher salt
Start by making the meatball mixture. Finely chop the shallots and garlic so that they are all evenly cut and will distribute through the meat well. Next, add the olive oil to a pan over medium heat along with the thyme and paprika and sauté the shallots and garlic until translucent and fragrant; about 2-4 minutes.
Transfer the oil and spice mixture to a heatproof bowl and add in the panko bread crumbs and salt. Mix together and let this cool for a few minutes. Once the breadcrumb and oil mixture is slightly cool, add in the egg and mix together. You want the breadcrumbs to absorb all of the oil, spices and egg so that this adds moisture and flavor to the turkey. Lean ground turkey can dry out really quickly, so this is really important!
Next add in the ground turkey and mix everything to combine. I often put on a pair of latex kitchen gloves and use my hands to mix this together, but you can use a fork or spoon if it makes you more comfortable. Mix until all of the spices and breadcrumbs are evenly distributed throughout the meat. It will become more pink/red hued from the paprika.
Next, line a baking sheet with parchment paper and get out a mini scooper. I use this all purpose scoop for everything from cookies to meatballs, so it's a great tool to have. It makes the meatballs uniform which makes them cook evenly and makes them look pretty. If you don't have a mini scoop, just use a spoon and do your best to keep the size consistent.
Preheat oven to 400 degrees, and scoop the meatballs onto the parchment lined baking sheet, leaving about an inch to an inch and a half in between each. You can roll the meatballs in your hand to make them more round, (this is what I did) or you can leave them as-is for a more rustic look.
NOTE*** If you are going to freeze the meatballs, I suggest scooping them out and rolling them into balls on the parchment lined baking sheet, then freezing them for a few hours on the baking sheet. Once they are frozen solid, you can transfer them to a ziplock or vacuum seal bag for storage, however freezing them on the baking sheet first ensures that they keep their shape and don't stick together.
Bake at 400 degrees for 9 minutes until the meatballs get slightly golden and are cooked through.
While the meatballs are cooking, work on the tzatziki dip.
Grate the cucumber and add it into a bowl with the yogurt, garlic dip, salt, and spices. Mix it all together and you're ready to go! This dip can be served immediately or stored in the fridge. It gets better the longer it sits, so you can absolutely make this the morning of or the day before your party and keep it in the fridge until you're ready to serve.
This is also a great dip to keep on hand if you're trying to be healthy. It goes great with meats, veggies, and as a guilt free dip with crackers.
Serve the party size turkey meatballs with tzatziki alongside toothpicks for an easy and hassle free way to eat them. Enjoy!