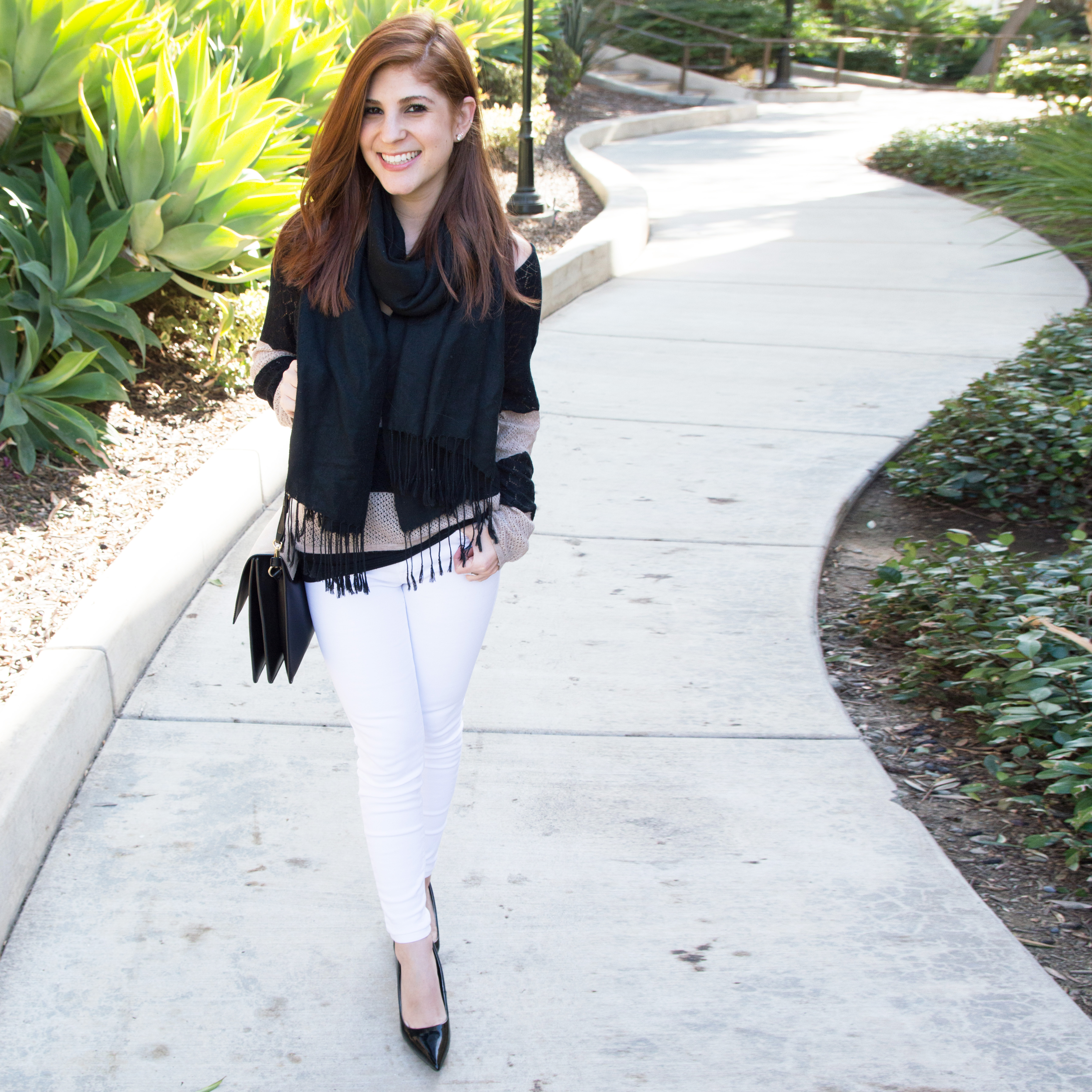 Once the holidays are over, we automatically get bombarded with "New Year, New You!" information, but do you really want to be new and different, or do you just want to freshen things up? I prefer the latter, so today I'm sharing how to freshen up your work wardrobe for the new year.
Go bold and opt for winter white
White clothing is often associated with spring and summer, however I'm challenging you to go bold and try out some white clothing during these chilly months. The best way to freshen up your work wardrobe for the new year is to try something different, and white garments can help with that! They will help break up dark colors and heavier clothing during these chilly months. I've opted for white pants, but a white blazer or jacket is a great option too!
Play with patterns
I'm a big fan of stripes, and often live by the motto that you can never have too many striped shirts, so I've paired my winter white with a bold rugby printed sweater, however I suggest picking your favorite print to highlight. During winter months, I often see people stick to solid colors, so breaking things up with a pop of pattern is a great way to freshen up your work wardrobe for the new year. Patterns can be integrated in key pieces like pants, tops, and outerwear, or can be used as accent pieces in scarves, ties, or bags.
Try out a new purse
I'm usually all about the big tote bags so I can easily throw in all of my stuff and keep everything on hand, but I recently found this adorable bag from Who What Wear, and I'm a little obsessed! (Bonus points that it's under $40) It's big enough to fit my wallet, phone and other essentials, but it's smaller than my usual purse, and the two tone gives every outfit a polished and put together look! It's easy to grab for the same purse over and over again, but trying something different and a bit out of your comfort zone is an easy way to freshen up your work wardrobe for the new year.
_________________
Instead of the whole "new year, new you" mantra, try being the same person you've always been, but with a fresh take on life and style. Freshen things up with bold colors, fun prints, and a new bag to give your work wardrobe a new vibe! Happy new year!