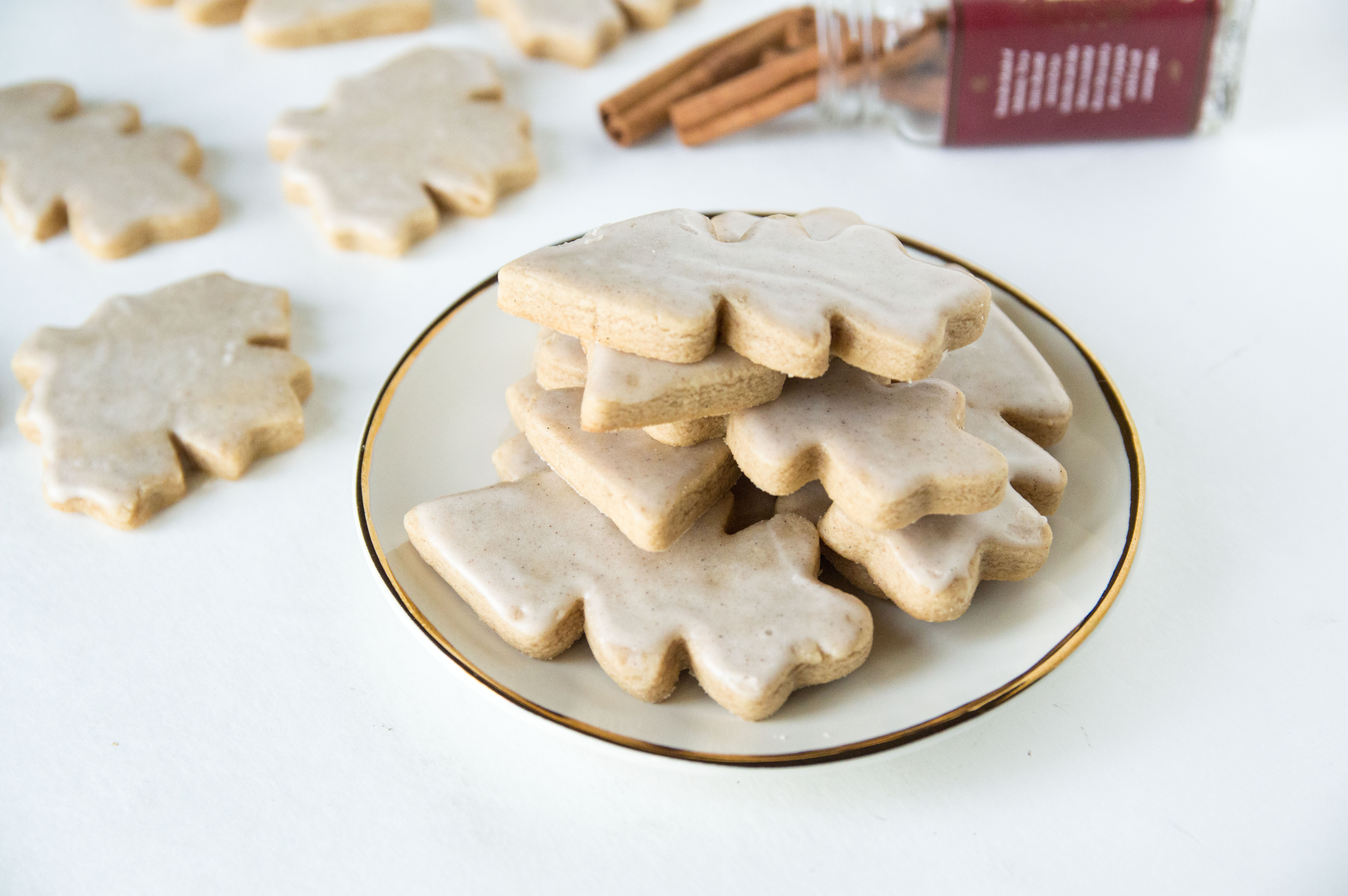 I love classic soft sugar cookies, but I wanted to play around with my go-to recipe and decided to make a batch of brown sugar cookies with all the flavors of fall. They have the same great texture as the original recipe, but these cookies get a hint of warm spices from the brown sugar, cinnamon, and molasses.
Everyone makes pie on thanksgiving, but sometimes it's nice to pass around a tray of cookies too. Plus, these brown sugar cookies make the perfect morning pairing with a steaming cup of coffee!
Brown Sugar Cookies:
2 3/4 cups all-purpose flour
1 teaspoon baking powder
1 cup brown sugar
1 cup (2 sticks) salted butter, at room temperature
1 tbs molasses
½ tsp ground cinnamon
1 tsp vanilla bean paste (if you don't have vb paste, sub with 2 tsp vanilla extract)
1 large egg
Royal Icing:
1 egg white
½ tsp vanilla bean paste or vanilla extract
1 cup powdered sugar
1/8 tsp ground cinnamon
Preheat the oven to 350 degrees F.
Line a large baking sheet with parchment paper or a silicone baking mat. Whisk the flour and baking powder in a medium bowl to blend. Using an electric mixer, beat the sugar, butter, cinnamon, molasses, and vanilla bean paste in a large bowl to blend. Beat in the egg and mix to fully combine. Add all of the flour mixture in 2-3 batches, and beat just until blended.
Split the dough in thirds and place 1/3 of the dough on a floured surface. I usually put a large piece of parchment paper or cutting board down and put flour on top of that for easy clean up.
Make sure you use enough flour on your work surface and rolling pin to ensure that the dough doesn't stick to anything. If you don't use enough flour, your dough will become a sticky mess.
Working with one disk at a time, roll out the dough to about ¼ inch thick and cut out with your favorite cookie cutters. I chose to stick with the theme of fall leaves, but there a lot of cookie cutter sets out there, so have fun with it! Place the unbaked brown sugar cookies on your lined baking sheet with an in or two in between each cookie.
Bake at 350 degrees for 7 minutes. Let cool on pan for an additional 7 minutes, then transfer to wire rack. This recipe makes about 3-4 dozen cookies depending on how big your cookie cutters are, so it's great to serve a crowd!
To make the icing, mix egg white and vanilla in the bowl of an electric mixer fitted with a whisk attachment until frothy, then beat in the cinnamon and powdered sugar until a glossy and smooth icing forms.
NOTE** This icing recipe is a guideline, and I tend to add more powdered sugar depending on what I want to do with the icing. If you want it thicker, add more sugar.
Make sure the cookies are fully cooled before you ice them. If you ice them when they are warm, the icing will just run off. You can have fun decorating the cookies and spend time with details, or if you want something simple and beautiful, just pick one color icing, and using a knife, frost all of the cookies in the same color for a cool, monochromatic look.
I put the icing in a ziplock bag and cut a tiny hole in the corner to use it as a piping bag to pipe the icing onto these cookies, but you could definitely just frost these cookies with a knife.
[Click here to watch video on how to pipe icing with a ziplock bag]
Whichever icing method you use, these brown sugar cookies will look and taste great!
Let the iced cookies set up and dry for about an hour so icing dries, and share these brown sugar cookies with your friends! Trust me, they will be a hit!