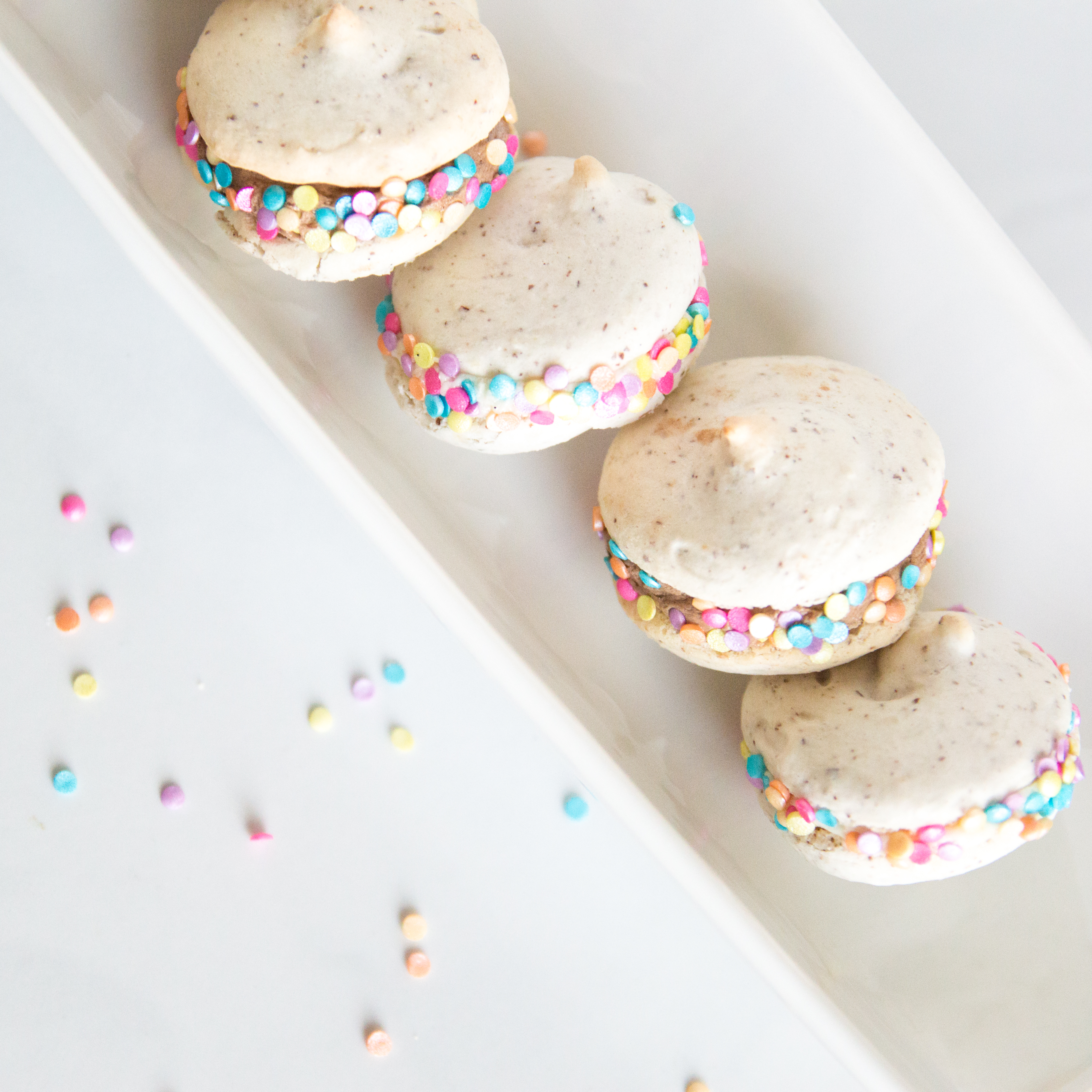 Birthday cake macarons. Need I say more?
Macarons are super trendy because let's face it, they're super cute and they're totally delicious. While you can easily go out and purchase them at various locations now, they're still pretty expensive, but contrary to popular belief, they're not that hard to make. They do take some time and practice, but once you get the hang of it, it becomes a really easy process. I often make macarons with a buttercream filling, but for these birthday cake macarons, I used mascarpone to give a creamier and slightly less sweet filling.
These birthday cake macarons are perfect to bring for parties because they feel very indulgent and special. They are a total show stopper and everyone is super impressed when you casually mention that you made them from scratch. Trust me, if you have a little time, these are so worth it!
Birthday Cake Macaron Ingredients
2/3 cup almond meal (71 grams)
1 cup confectioners' sugar (117 grams)
2 large egg whites, room temperature
1/4 cup granulated sugar (53 grams)
1 tsp vanilla bean paste
Mascarpone Filling
8 oz mascarpone at room temp
2 tbs salted butter at room temp
½ cup powdered sugar
1 tsp vanilla bean paste
2 tbs unsweetened coco powder + 2 tbs powdered sugar (if you want to make chcocolate)
Sprinkles for decoration
Place almond meal and powdered sugar in a food processor (I used my NutriBullet); process until as fine as possible, about 1 minute. Next, pass almond mixture through a fine-mesh sieve to get out all of the lumps and aerate the mixture. It sounds like a pain, but it is totally worth it!
In a separate bowl (or the bowl of a standing mixer), whisk egg whites and granulated sugar by hand to combine. Beat on medium speed (4 on a KitchenAid) 2 minutes. Increase speed to medium-high (6) and beat 2 minutes. Then beat on high (8) 2 minutes more. The beaten egg whites will hold stiff, glossy peaks when you lift the whisk out of the bowl. Add in vanilla extract and beat on high speed 30 seconds.
Add dry ingredients all at once, folding them into the egg white mixture with a spatula from bottom of bowl upward. Repeat just until batter flows like lava, 35 to 40 complete strokes.
Next, Line baking sheets with parchment paper and lightly spray with cooking spray. NOTE*** I tried using a silicone baking mat once and the macarons completely stuck to it, however I've never had a problem with parchment paper and nonstick spray.
Rest a large ziplock bag inside a glass. Transfer batter to bag and cut off the tip, about 1/8 inch up from corner. With the tip of the bag 1/2 inch above sheet, pipe batter into a 3/4-inch rounds, spacing rounds 1 inch apart. This recipe makes about 60 round disks, 30 sandwiched macarons.
Let the rounds air dry for one hour so they form a skin/crust on them. THIS IS VERY IMPORTANT! This will ensure that the macarons hold their shape when baking and keep their pretty appearance.
Preheat oven to 350 degrees.
Bake 1 sheet at a time, rotating the pan after 4 minutes, baking the macarons for an additional 2-3 minutes, until risen and just set, (Total baking time of 6-7 minutes). The baked macarons will be slightly golden at the edges, but just barely.
Transfer the cookies to a wire cooling rack and let the macarons cool completely before filling them.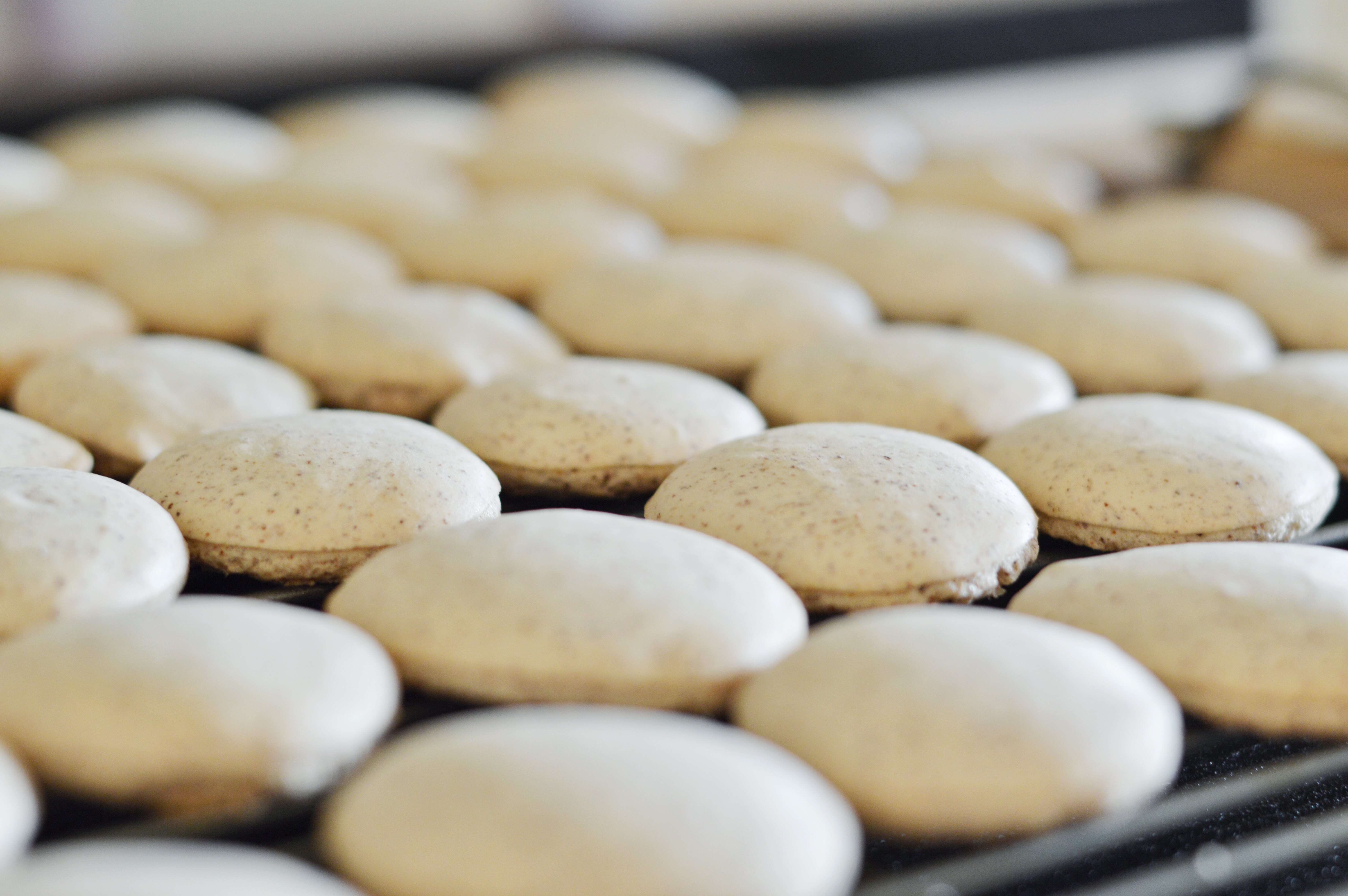 To Make Mascarpone Filling to Make Them Birthday Cake Macarons:
Cream room temp mascarpone and butter with the vanilla bean paste to make a smooth mixture. Next add in the powdered sugar and mix to combine. You can stop here for vanilla filling, but if you want to make both vanilla and chocolate filling like I did, split the filling in half, and add the additional powdered sugar and coco powder to the half that you want to be chocolate.
Rest a large ziplock bag inside a glass. Transfer filling to bag and cut off the tip, about 1/8 inch up from corner. Pipe as much filling as you like onto 1 cooled macaron, then sandwich it with another cookie. To make these truly look like birthday cake macarons, pour your favorite sprinkles onto a small plate, then roll the outer edges of the filled macaron in the sprinkles so they stick to the filling.
Enjoy!